Current applications of molecular pathology in colorectal carcinoma
Applied Cancer Research
2017
37:13
Received: 14 October 2016
Accepted: 5 May 2017
Published: 11 May 2017
Abstract
Molecular pathology is playing an increasingly important role in the treatment and overall management of patients with colorectal carcinoma. Three distinct genetic pathways have been identified that play a role in carcinogenesis: the chromosomal instability pathway, the microsatellite instability pathway, and the CpG island methylator phenotype pathway. Certain genetic mutations, some of which overlap with the aforementioned pathways, can also indicate that a carcinoma patient has a genetic predisposition syndrome, such as familial adenomatous polyposis, Lynch syndrome, and hamartomatous polyposis syndromes. A variety of advanced methods, including next-generation sequencing, are available to test for these and other mutations, such as targetable mutations that may allow tailoring of a treatment regimen to a patient's specific cancer (e.g., KRAS and BRAF mutations). The possible future role of testing circulating tumor cells is also addressed. New mutations and syndromes continue to be discovered, ensuring that our knowledge of colorectal carcinoma and our ability to treat it will advance in the future.
Keywords
Colorectal carcinomaHereditary syndromesMolecular pathologyTherapeutic targetsNext generation sequencing
Background
Understanding of the molecular pathogenesis of colorectal carcinoma (CRC) began with the adenoma-carcinoma sequence, wherein tubular adenomas that arise within the colon accumulate additional molecular mutations over time, with oncogene activation and tumor suppressor inactivation, leading the adenoma to develop into adenocarcinoma (Fig.
1
) [
1
]. A number of genes have been implicated in this sequence, including
KRAS
[
2
],
TP53
[
3
],
APC
[
4
], and less commonly
BRAF
[
5
].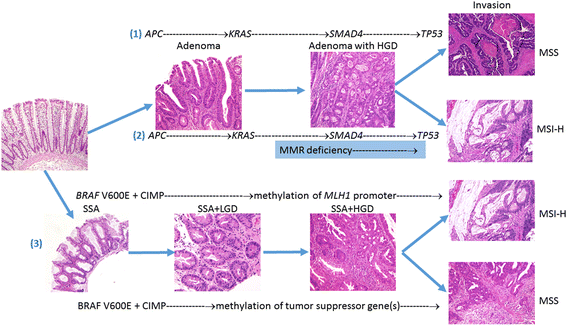 While this pathway of molecular oncogenesis, termed the chromosomal instability pathway (CIN), accounts for roughly 60% of CRCs, a variety of other insults can accumulate to cause the remaining proportion of the disease [6]. The most well-studied of these is the microsatellite instability (MSI) pathway (Fig. 1) [7]. Certain genes (most notably MLH1, MSH2, MSH6, and PMS2) encode proteins that repair mismatched DNA bases, preventing the formation of deleterious microsatellite sequences. If this functionality is lost due to gene mutation, an adenoma can form and may, within a few years, progress to malignancy as well; hypermethylation of MLH1 (see below) accounts for perhaps 12% of CRCs, with germline mutation of a mismatch repair gene accounting for about 3% [7].
A third pathway, the CpG island methylator phenotype (CIMP) or serrated pathway, causes 35% of CRCs and involves epigenetic hypermethylation of CpG islands in promoter regions of tumor suppressor genes, preventing them from undergoing transcription and therefore effectively inactivating them (Fig. 1). Such tumors typically arise from a sessile serrated adenoma, rather than a tubular adenoma (Fig. 1) [8]. This shares some overlap with the MSI pathway, as MLH1 undergoes hypermethylation in a large proportion of cases. Other potentially targeted genes include CDKN2A (which encodes p16) and THBS1 [9]. CIMP tumors are often proximally located and also harbor a BRAF mutation [10], which may have been present in the precursor sessile serrated adenoma.
These three pathways provide a basic but incomplete outline regarding the overall pathogenesis of CRC, as the molecular profile of each individual tumor is highly complex and variable. CRCs collectively have a median of 76 identifiable mutations, though only some truly contribute to oncogenesis [11]. Furthermore, the Cancer Genome Atlas Network recently reported that 16% of CRCs are hypermutated, with three-fourths of these demonstrating hypermethylation and the remaining one-fourth harboring mutations in POLE or in mismatch repair genes [12]. Their report also noted that ARID1A, SOX9, and FAM123B mutations are often identified in CRC. As additional molecular findings are cemented in the literature, classifications of colorectal carcinoma may become based primarily on molecular properties, rather than histologic subtype; indeed, such classifications are already being proposed [13, 14].
Identification of a CRC's molecular underpinnings can impact a patient in several ways. Targeted therapy against the EGFR signaling pathway has become a mainstay in the treatment of metastatic disease [15]. Furthermore, several inborn syndromes exist that predispose patients to develop CRC more frequently and/or at a younger age than non-syndromic patients in the general population. The most famous of these are familial adenomatous polyposis (FAP) and Lynch syndrome (formerly termed hereditary non-polyposis colorectal cancer, or HNPCC), which respectively embody the CIN and MSI pathways of oncogenesis. There are other, less common syndromes that share some similarities with these two. Additionally, several hamartomatous polyposis syndromes exist as a side note. These syndromes will be discussed in the next section of this article, followed by an overview of the role of molecular testing in patient diagnosis and treatment. Finally, the future of molecular evaluation of CRC will be covered, with a look at promising upcoming targets.
Colorectal carcinoma syndromes
Although fewer than 10% of CRCs can currently be attributed to hereditary cancer syndromes, they are important for several reasons [16]. For one, they afford an opportunity to observe the key molecular factors leading to carcinogenesis. Second, their identification can have a lasting impact on the entire family of a cancer patient. Finally, as family history is a strong risk factor for CRC even in the absence of a known syndrome, there exists potential for discovering new syndromes and novel molecular associations [17]. For these and other reasons, the American Society of Clinical Oncology recently released clinical practice guidelines aimed at identifying syndrome-associated CRCs [18]. A brief review of important syndromes follows.
Current molecular testing
Molecular testing can be used to identify patients with hereditary CRC syndromes or individuals genetically susceptible to developing CRCs. In addition, molecular testing of CRCs helps identify molecular biomarkers, which may improve patient care by individualizing cancer treatment.
Molecular testing in hereditary colorectal cancer syndromes
Molecular biomarker testing in colorectal cancers
MSI testing
MSI status may influence therapy decisions in stage II colorectal cancers. MSI is a good prognostic factor, though MSI-high cancers may not benefit from 5-FU-based adjunctive chemotherapy. Therefore, post-operative chemotherapy is not recommended for patients with stage II MSI-high CRC. The 2015 NCCN guidelines recommend that MSI testing or MMR immunohistochemistry should be performed in all patients with stage II CRC. In addition, MSI tumors contain significant more mutations then MSS tumors. They may be more likely to respond to immunotherapy, such as anti-PD1 agents [82]. Therefore, MSI or MMR testing should be performed in all patients with metastatic colorectal cancer if not previously done.
Extended RAS and BRAF mutational analysis for metastatic CRC patients
Mutations of KRAS and NRAS in exons 2, 3, and 4 result in constitutive activation of the EGFR signaling pathway. Clinical trials have provided evidence that these mutations are negative predictors of response to anti-EGFR therapy [83–88]. BRAF is an immediate downstream molecule of RAS. BRAF mutations also constitutively activate the enzyme activity, consequently persistently stimulating the EGFR signaling pathway. Although the results regarding the predictive role of BRAF mutations have been controversial, BRAF mutations in MSS cancers confer a poorer prognosis [83]. Therefore, the 2015 NCCN guidelines recommend that all patients with metastatic CRC should be tested for KRAS, NRAS and BRAF mutations. The NCCN guidelines also state that extended RAS mutations should be tested whenever possible.
Mutations in
RAS
and
BRAF
are missense single nucleotide substitutions (point mutations). Sanger sequencing, allelic-specific PCR, and pyrosequencing can be used to detect point mutations. However, these assays cannot be multiplexed, and Sanger sequencing requires high tumor cellularity. Many laboratories have developed multigene assays, which are more sensitive than Sanger sequencing and more efficient than the above assays. One example of a multigene assay is the SNapShot platform [
89
], which is a combination of multiplex PCR amplification of tumor DNA with single base extension of the PCR product following by capillary electrophoresis (Fig.
7
). Recently, next-generation sequencing is receiving more widespread used for the same purpose.

Multiple gene mutation analysis by next-generation sequencing
In addition to KRAS and BRAF, some CRCs harbor mutations in other genes encoding for key intracellular molecular transducers of EGFR activation, such as PIK3CA and PTEN. Although their predictive and prognostic role is uncertain in metastatic CRC, they are potentially actionable genetic alterations. In fact, the PI3K/AKt/mTOR signaling pathway has been utilized as the therapeutic target for metastatic CRC in several clinical trials. Therefore, identification of mutational status of these genes, in addition to KRAS and BRAF, could help select better treatment for patients with metastatic CRC. Analysis of multiple mutations in multiple genes requires implementation of multi-target testing methodologies. Next-generation sequencing has been proven to be a robust and cost-effective tool to analyze a large number of gene alterations simultaneously [90, 91]. In addition, next-generation sequencing may identify uncommon genetic alterations, which could be potential actionable targets.
Although next-generation sequencing has been used for detection of gene mutations in malignancies for clinical implications in some centers, specific guidelines have not been developed. There is always a question regarding which sample should be used for analysis of gene mutations (metastasis versus primary tumor). Theoretically, it is more appropriate to test the metastatic lesions, because they are the cause of clinical morbidity and mortality. Multiple studies have compared KRAS alterations and have demonstrated rare discordance between primary cancer and metastasis [83]. However, significant discordance could occur when analyzing a larger panel. One study demonstrated a very different genotype in metastases from the primary tumor in about half of patients with synchronous metastatic CRCs [92]. Therefore, metastases may be a preferred specimen for next-generation sequencing of cancer genes, especially for patients with synchronous metastatic colorectal cancer. Nucleated tumor cellularity should be estimated by examination of an adjacent hematoxylin- and eosin-stained slide. Next-generation sequencing platforms have a minimum sensitivity of approximately 5%. Therefore, tumor cellularity of ≥ 10% is necessary for detection. During the data analysis, mutant-allele frequency (mutant/wild-type ratio) should be calculated. Both tumor cellularity and mutant-allele frequency help determine tumor heterogeneity and mutant allele-specific imbalance.
Future molecular testing in colorectal cancer
Characterization of biomarkers in circulating tumor DNA may be the future of personalized medicine in oncology. It is a non-invasive approach analyzing tumor genotypes in real time. A recent study demonstrated identification of tumor-associated mutations including KRAS, BRAF, and PIK3CA mutations in plasma DNA from the majority of 503 patients with metastatic CRC enrolled in the CORRECT trial [93]. Detection of genetic mutations using circulating tumor DNA may allow clinicians to follow the genetic evolution of the tumor noninvasively and may aid in predicting treatment response. However, to see widespread use in clinical practice, the technologies detecting circulating tumor cells need to be validated in large-scale studies.
Conclusions
Molecular testing has become of critical importance in the management of patients with CRC. It can identify the existence of a tumor predisposition syndrome, and it can help specify tumor-specific targets for patient therapy. Therefore, the genetic makeup of a particular CRC simply cannot be disregarded if the standard of care is to be met. As our knowledge of the genetics of CRC advances, new molecular targets and new genetic syndromes will almost certainly be discovered.
Abbreviations
CIMP:

CpG island methylator phenotype
CIN:

Chromosomal instability pathway
CRC:

Colorectal cancer
FAP:

Familial adenomatous polyposis
HNPCC:

Hereditary non-polyposis colorectal cancer
JPS:

Juvenile polyposis syndrome
MAP:

MUTYH-associated polyposis
MLPA:

Multiplex ligation-dependent probe amplification
MMR:

Mismatch repair
MSI:

Microsatellite instability
NCCN:

National Comprehensive Cancer Network
PJS:

Peutz–Jeghers syndrome
Declarations
Acknowledgements
None.
Availability of data and material
Not applicable.
Authors' contributions
All authors have contributed to the writing and editing. All authors read and approved the final manuscript.
Competing interests
The authors declare that they have no competing interests.
Consent for publication
Not applicable.
Ethics approval and consent to participate
Not applicable.
Publisher's Note
Springer Nature remains neutral with regard to jurisdictional claims in published maps and institutional affiliations.
Open AccessThis article is distributed under the terms of the Creative Commons Attribution 4.0 International License (http://creativecommons.org/licenses/by/4.0/), which permits unrestricted use, distribution, and reproduction in any medium, provided you give appropriate credit to the original author(s) and the source, provide a link to the Creative Commons license, and indicate if changes were made. The Creative Commons Public Domain Dedication waiver (http://creativecommons.org/publicdomain/zero/1.0/) applies to the data made available in this article, unless otherwise stated.
Authors' Affiliations
(1)
Department of Pathology and Laboratory Medicine, University of Rochester Medical Center, Rochester, USA
(2)
Department of Pathology, Microbiology and Immunology, Vanderbilt University Medical Center, Nashville, USA